Introduction
If your books are set up in accordance with GAAP (generally accepted accounting principles), this feature can save you a lot of time.
Please note that this feature requires QuickBooks Online Plus. This feature works best on Chrome or Firefox browsers.
Disclaimer: We are not accountants. Our job at BridalLive is to build a great product and then show you how to use it. Your job is to determine if what we've created fits with the way your books are set up. If you don't possess the knowledge to make this decision, you will need to seek professional advice from a CPA or your bookkeeper. If you need a someone to help decide if this feature works with the way you do bookkeeping, we have partnered with a financial consultant that understands Bridal Accounting. They can be found here on our Recommended Partners page.
QuickBooks Online Export Settings
There is one page in BridalLive where you will setup and execute the QuickBooks Online Export. It is located under Settings > Integrations > QuickBooks. If you don't see the Integrations Menu option, you'll need to grant your user role a Permission within the Integrations Permission Group. Once you've got the appropriate permissions, you'll just need to refresh your screen and you'll see the Integrations Menu with the QuickBooks menu option.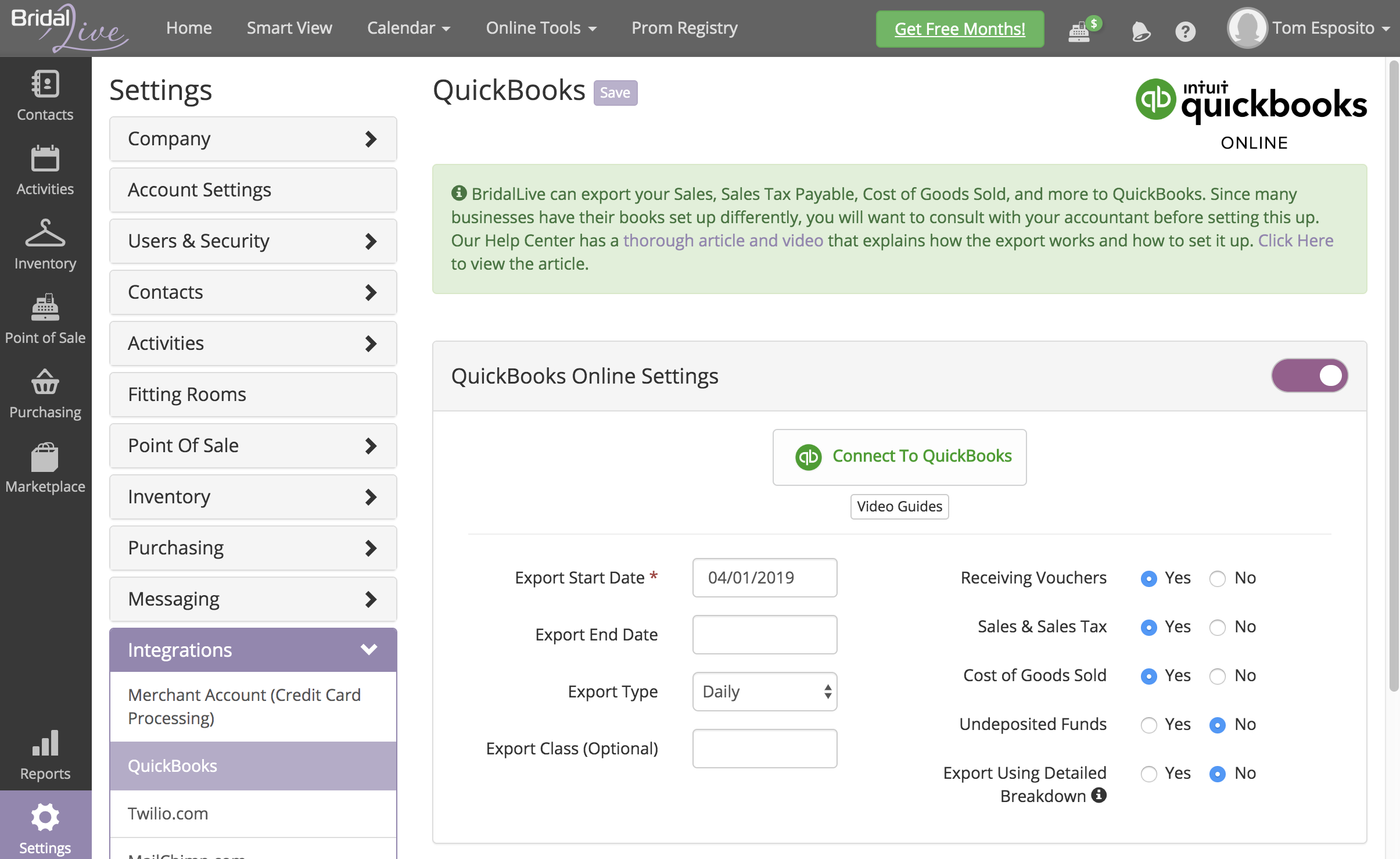 Connecting your QuickBooks Online Account to BridalLive
Since we are talking about QuickBooks Online, you'll want to make sure that you've toggled the purple switch to QuickBooks Online. Once you've done this, you'll see a "Connect to QuickBooks" button. Clicking this button will open a new window where you are asked to sign into your QuickBooks Online account. If you have multiple Companies linked to your QuickBooks Online account, you'll be asked to choose which account to link. However, if you just have 1 company, QuickBooks will ask you whether you'd like to grant BridalLive access to your QuickBooks data. To grant access, click "Connect".
QuickBooks Export Settings
Export Start Date
You'll want to set the Export Start Date to the date in which you'd like BridalLive to begin exporting data. If you set this date to April 1st, BridalLive won't export anything before that date.
If you are a new business with a fresh QuickBooks account, set this field to the date you created your BridalLive account. If you are an existing business with data already in your QuickBooks account from a previous system or manual entry, setting this date is very important. We recommend setting this date to the last day that your previous system has exported data. This will prevent BridalLive from exporting data that your previous system has already booked in QuickBooks. It's a great idea to pick the beginning of a month, quarter or year.
Export End Date
The Export End Date works a little differently. You can either leave this field blank, which tells BridalLive to export everything from the Start date to the current date. Or, if you are wanting to export a specific period of time, then you'll want to enter a date.
Export Type
BridalLive uses Journal Entries when exporting data to QuickBooks. The Export Type field allows you to specify whether you'd like those journal entries to be made for each day or whether you'd like to aggregate all of the data for a given date range into 1 journal entry. We recommend the Daily option for several reasons, but mostly because it is easier for you to see the specifics for each day.
Export Class
The Export Class field is used only if you have multiple business locations. If you are a multi-location business, you'll have multiple BridalLive accounts - each with their own QuickBooks settings. The Export Class allows you to classify the data that is exported from each BridalLive to the associated Class in QuickBooks. This allows you to separate the data from each location within QuickBooks.
Selecting which information BridalLive should export
We get into the specifics of how the information is exported to QuickBooks Online in another article, but for setting up your Export, you'll just need to select which data to export.
Receiving Vouchers
Receiving Vouchers are created in BridalLive when you receive merchandise from a manufacturer. These vouchers are exported to QuickBooks as Bills. Turning this setting on saves you from having to manually enter your manufacturers' invoices twice. This is on of the most time-saving element of the QuickBooks export.
Sales and Sales Tax
The next set of export options can really mess up your books if you don't know what you are doing. Please seek professional guidance from your CPA or Bookkeeper before enabling these. If you are not working with a professional, we have Consultants listed on our Recommended Partners Page.
BridalLive gives you the option of exporting Sales and Sales Tax. If your books are done in accordance with GAAP where you manage Customer Deposits as a liability on your balance sheet, then you may want to turn this feature on. When enabled, BridalLive will create Journal Entries in QuickBooks that streamline the recognition of sales and sales tax when transactions are completed in BridalLive. Additionally, Journal Entries will be made to move funds to and from your Customer Deposits account when your customers place their deposits and ultimately take delivery of the merchandise.
Please note that at this time, BridalLive's QuickBooks Online Export does not export VAT/GST. This information will need to be manually entered using information from the VAT/GST Report.
Cost of Goods Sold
If you've chosen to export Sales and Sales Tax, you'll likely want to enable the Cost of Goods Sold export as well. Enabling this option will tell BridalLive to create a Journal Entry in QuickBooks to Debit your Cost of Goods Sold Account and Credit Inventory Account when transactions are completed in BridalLive.
Undeposited Funds
BridalLive has the option to export your Undeposited Funds. Enabling this option will tell BridalLive to make 1 Journal Entry per payment method. For example, if you've received two Visa Payments of 500, the Export will make one Journal Entry of 1000. Turning this option on will cause these payments to appear on the "Make a Deposit" screen in QuickBooks. If you don't use this feature, keep this option disabled.
Please note: If you use the Banking feeds in QuickBooks Online, and you are booking your deposits to your sales account, you do not want to enable this feature because it will cause you to double count your sales figures.
Detailed Breakdown
The final option is the "Detailed Breakdown". This is an advanced option that you can enable to separate the exported data into departments and also classify entries as Sold from Stock or Special Ordered. Enabling this option requires quite a bit of setup and meticulous organization. We recommend leaving this off unless your accountant has advised you to turn it on.
Running your first export
Now that you know how to configure the export, let's run through the first export. BridalLive will only export information that it has not already exported. So you can run this over and over without worrying about duplicating information in QuickBooks.
To start the export, click the "Export to QuickBooks Online" button.
Account Mappings
The first time you run the export, BridalLive attempts to do several initial steps. The first thing it does is try to link your QuickBooks accounts with BridalLive activity. We call these Account Mappings.
BridalLive attempts to automatically link Accounts by name. If it can't find a match, it'll present you with a little "Fix Issue" button that will allow you to select from a list of accounts in QuickBooks.
If BridalLive is unable to match the accounts (highlighted in red), you can either select the appropriate QuickBooks account from the dropdown or go into QuickBooks and add the accounts that are missing. Please consult with your accountant to correctly create the accounts. Once you've added the new accounts, run the Export again. You will be able to select your new Accounts.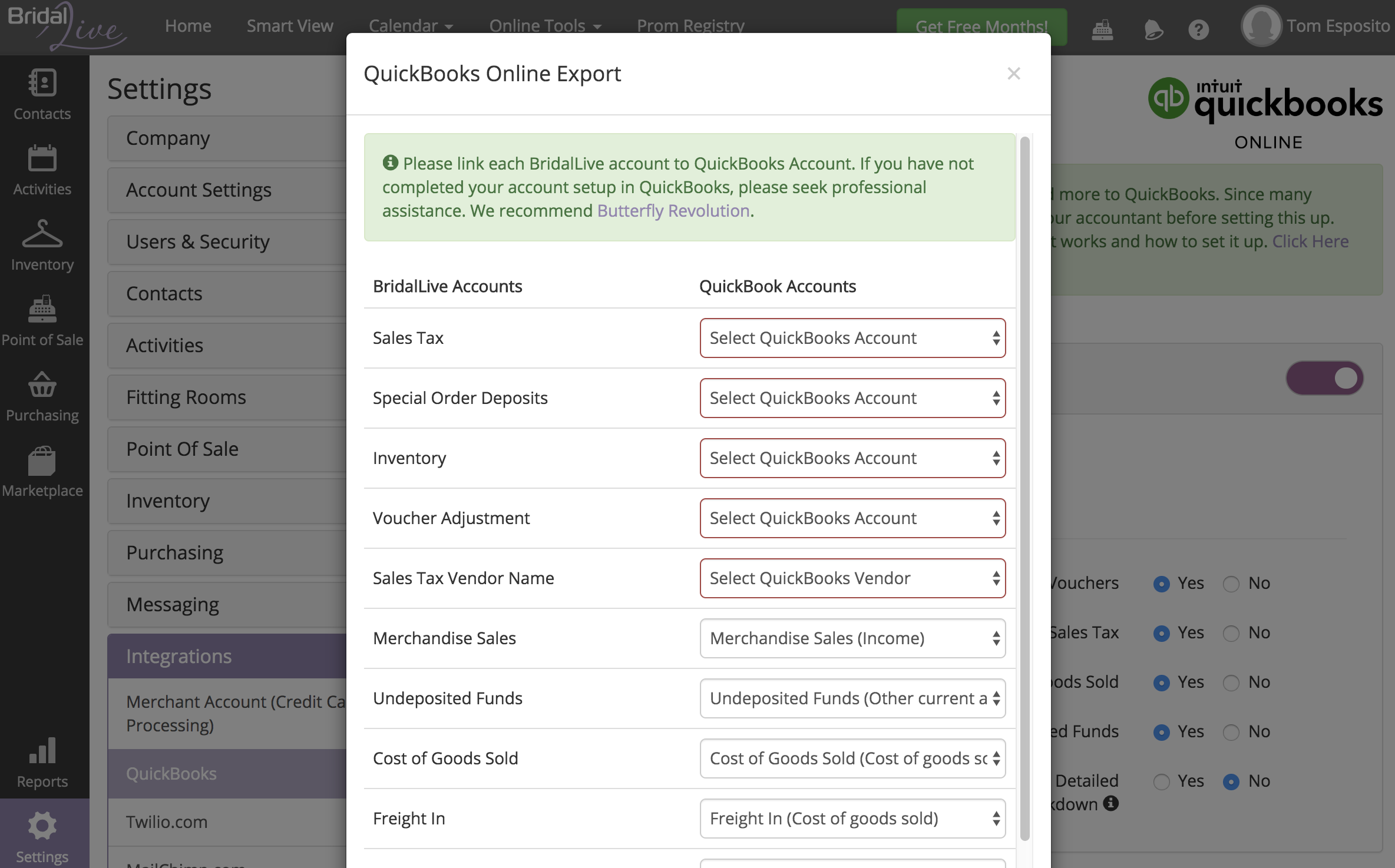 Mapping Vendors
Second, BridalLive is going to attempt to link you QuickBooks Vendors with BridalLive Vendors. We call these Vendor Mappings.
If you get the "Fix Issue" button, there are some vendors in BridalLive that either don't exist in QuickBooks or exist with a different name. BridalLive gives us an option to Add the vendor to QuickBooks. This will add the vendor using the information on the Vendor's profile in BridalLive.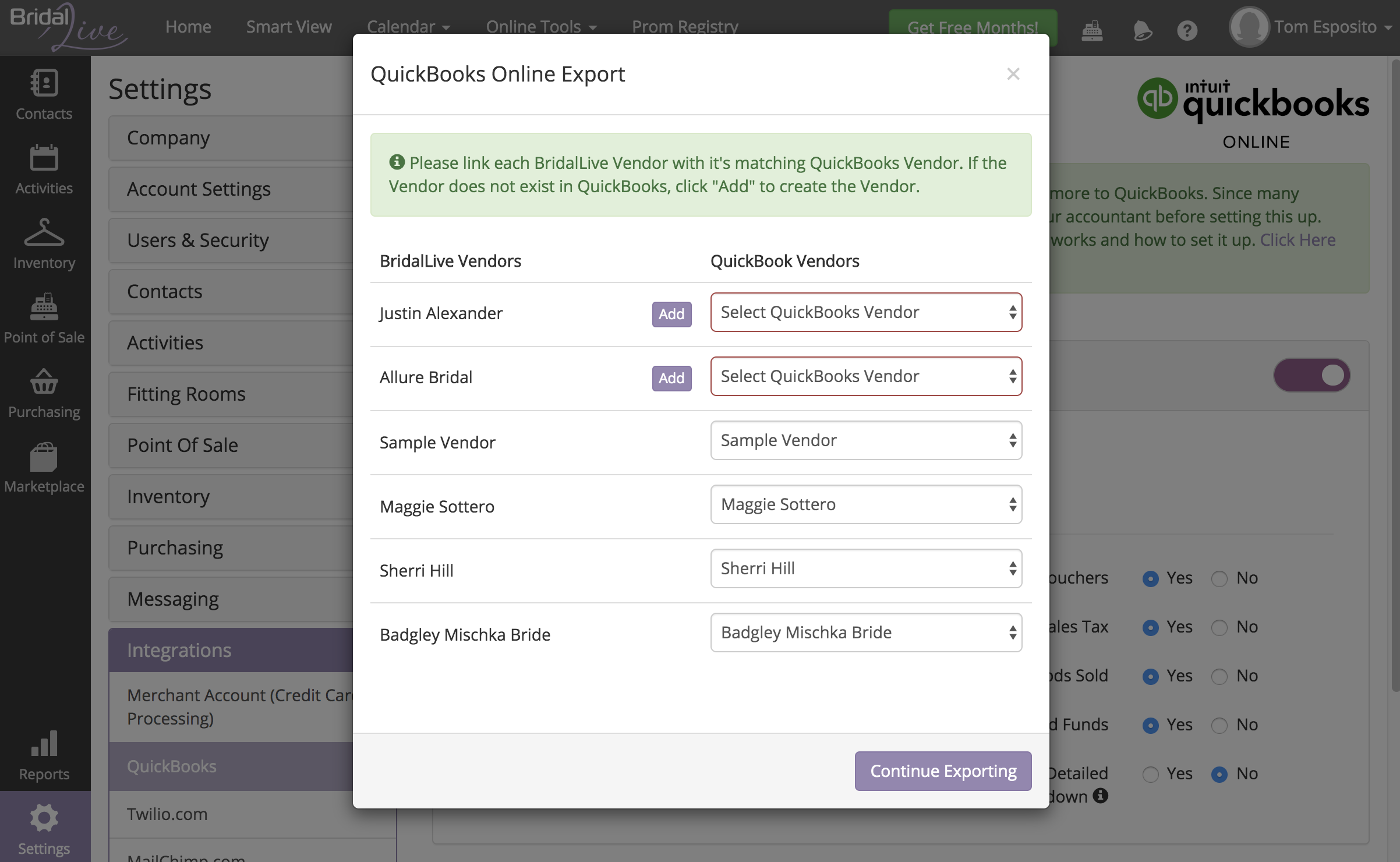 Receiving Item and BridalLive Customer Entities
The next thing BridalLive does is add an Item and a Customer to QuickBooks. These two entities are used during the Bill and Undeposited Funds exports, respectively. After these two entities are added, BridalLive moves on to exporting the information that you've selected earlier.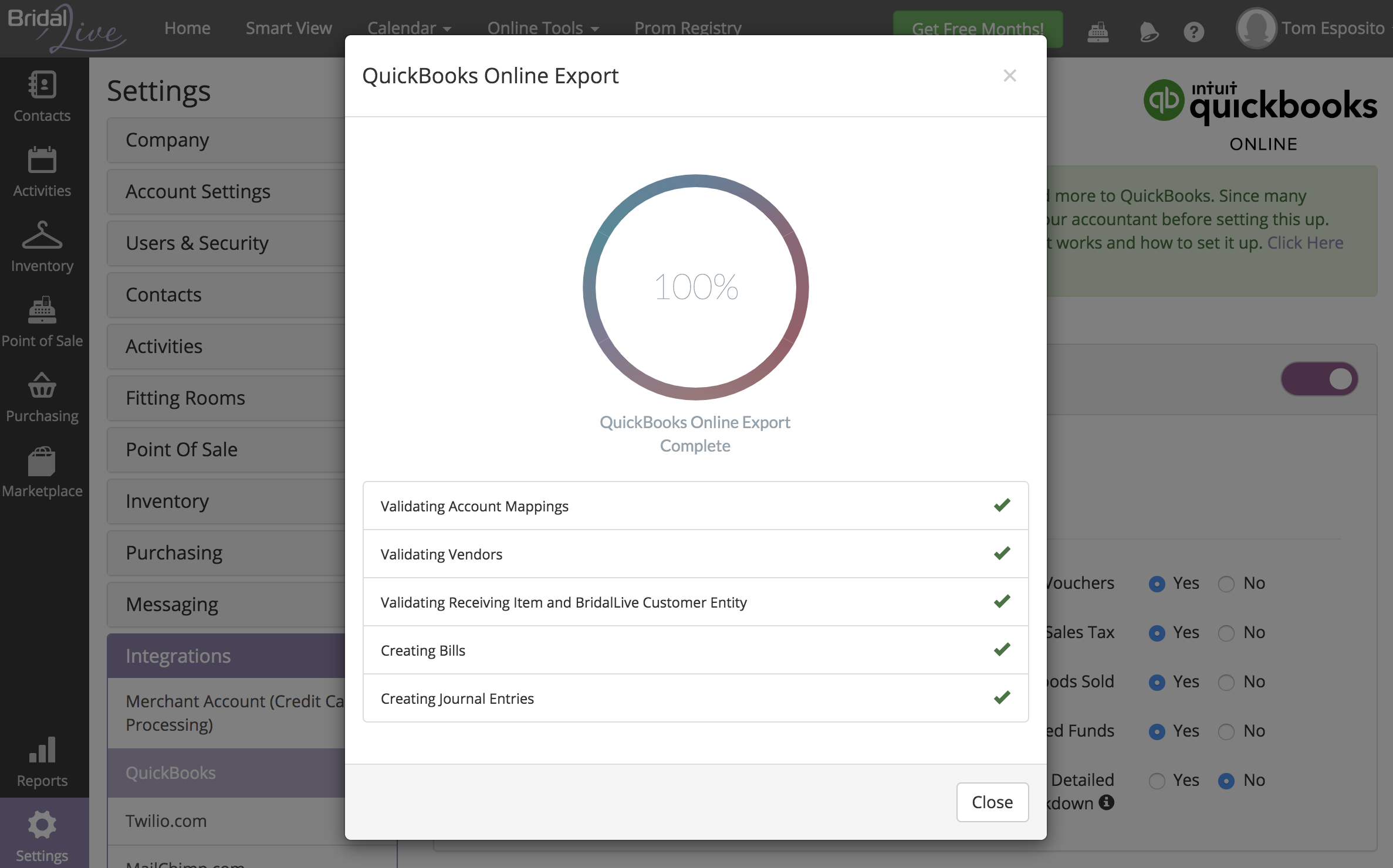 This concludes the article on setting up your QuickBooks Export. The next article in the series is: QuickBooks Online Export - How Information is Exported