BridalLive has reviewed the Twilio "10DLC" update requesting that businesses register their Twilio messaging numbers to prevent text messages from being marked as spam by wireless carriers.
From what we've read, it doesn't seem like the updates are required to continue messaging, however, failing to register will result in higher wireless carrier fees and increases the potential for messages to be marked as spam (undelivered) by wireless carriers.
To avoid any service interruptions, I recommend registering your business with Twilio following the instructions provided in the tutorial video linked within the announcement email. It will walk you through each step of the process.
If you have any trouble sending messages after applying updates, please make sure your phone number Messaging settings are set to the below: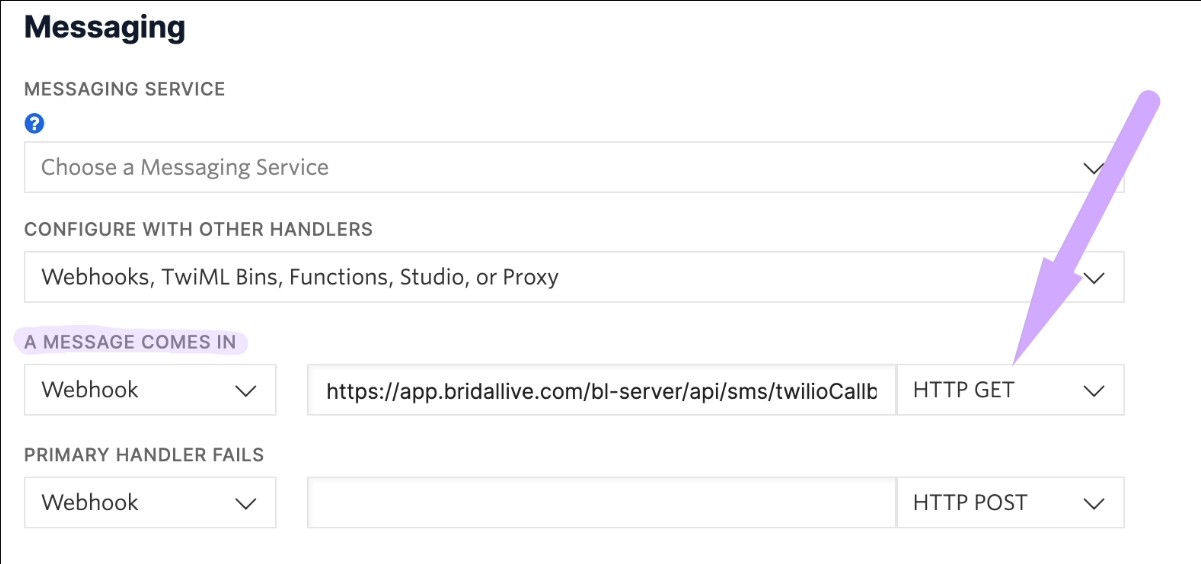 Choose a Messaging Service

should not be set and should look like the image above.

Configure with Other Handlers

- Webhooks, TwiML Bins, Functions, Studio, or Proxy

A Message Comes In

- set to Webhook with the below info
Review our Twilio guide for any additional setup questions - https://help.bridallive.com/hc/en-us/articles/360022868091-Setting-up-Twilio-com
If you have any questions about registering your business, please reach out to Twilio support for assistance as they will be able to help with Twilio specific questions!
---
Twilio 10DLC UPDATES
*TWILIO 10DLC EMAIL RECEIVED AND COPIED FOR TWILIO USERS ON NOVEMBER 15, 2022*
You are receiving this email from Twilio because you send text messages (SMS and/or MMS) to U.S. consumers using 10-digit long code (10DLC) phone numbers.
What do you need to know?
Previously, customers who send fewer than 3,000 message segments per day to U.S. destinations, and use 5 or fewer phone numbers, did not need to register their brands and campaigns. These guidelines are changing.
Effective December 15, 2022, Twilio will require low-volume senders using U.S. 10DLC numbers to register their brand and their use case ("campaign") for each phone number. Messages sent after December 15, 2022 on unregistered phone numbers will incur additional per-message carrier fees, and may be subject to filtering or blocking.
Why is this happening?
Low-volume message senders are now required to register their brand and campaign for each phone number.
What do you need to do?
You need to register your low-volume brands, campaigns, and phone numbers byDecember 15, 2022to avoid fees for messaging using unregistered phone numbers, and to avoid potential filtering or blocking.
For phone numbers used to send fewer than 3,000 message segments per day, follow this guidance:
What if you don't take action?
Messages from unregistered numbers may be filtered or blocked. You will also be charged fees for any traffic, even low volume traffic, sent with an unregistered 10DLC number starting December 15, 2022.
Sincerely,
Team Twilio