Contact Settings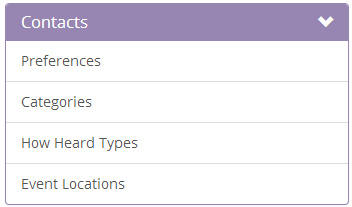 Preferences
Choose your default state and if you want the Contacts Notes to print when you print the Contact Information Sheet.
Categories
Categories are a great way to segment your contacts into groups. Some folks like to categorize contacts by the type of contact they are (i.e. Bride, Bridesmaid, Prom, etc). Others like to categorize by behavior (i.e. Bride - Purchased Gown, Bride - No Purchase, Bride - Visited, etc). The possibilities are endless.

BridalLive is loaded with pre-defined categories. You may edit, delete or add your own.

With BridalLive's Smart Flow feature, these categories can be automatically assigned to your contacts when specific behavior occurs like buying a wedding dress! Try it out!
How Heard Types
Understanding where your customers are coming from is critical to any business. The How Heard Types screen allows you to setup all your marketing channels. How Heard Types can be assigned to contacts in the Contact's profile. Then, using the How Heard Effectiveness Report, you'll be able to see which marketing channel pays off the most!

BridalLive is loaded with pre-defined how heard types. You may edit, delete or add your own.
Event Locations
Event Locations can be setup to track when and where your contacts are having their events. For, weddings you usually only need to specify a description. These can be generic (i.e. Church, Beach, etc) or they can be more specific (i.e. ABC Event Facility, Chateau Elan, etc).

For Prom/Homecoming, you will want to use the name of the school and a date. Each year, you will want to change the dates for each school's prom/homecoming.

BridalLive is loaded with pre-defined event locations. You may edit, delete or add your own.

Activity Settings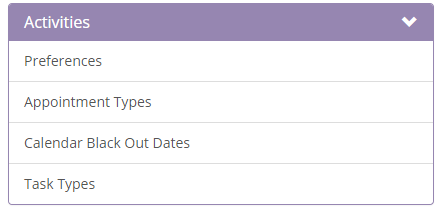 Preferences
Choose which color you want to show for your appointments on your calendar: Appointment Type Color or Associate Profile Color.

Other preferences: Allow appointments to be booked outside of employee work schedule, Print Contact Notes on Appointment Sheet and Print Appointment Notes on Appointment Sheet.

Public Calendar URL allows you to integrate your calendar with other calendaring services like Gmail and Outlook.com. The public calendar url allows you to have 3rd party calendar services (like Google Calendar or Outlook 360) fetch your BridalLive appointments and display them in their system (and on your various devices!). While we make this feature available, we do not have control of how frequently these services ask for updates to your calendar.
We always return the most up to date information, but if they haven't asked us for updates, then your appointments will be out of date in those systems.
**See those respective systems for instructions on how to add an "External Calendar" to your personal calendar.
Appointment Types
Appointment Types let you organize your calendar. Each appointment type has a pre-defined duration and color, which can always be changed at the time of booking. If you would like website visitors to request or schedule appointments online, be sure to change appointment type's 'Book Online' setting to Yes.

BridalLive is loaded with pre-defined appointment types. You may edit, delete or add your own.
Calendar Black Out Dates
The Calendar Black Out Dates feature allows you to enter dates that you do not want appointments booked, ie Holidays, Closed Days, Inventory dates, etc. You may also add a comment as to why you are blacking out those dates.

Task Types
Task Types let you organize your store's todo list. You can create tasks for everything from 'Housekeeping' to 'Send Thank You Letter'. Additionally, the Smart Flows feature can be setup to automatically create tasks based on a contact's behavior. For instance, you may want to setup a Smart Flow to create a task to send a thank you letter when an appointment is completed!

BridalLive is loaded with pre-defined task types. You may edit, delete or add your own.


Click here to proceed to Step 3: Fitting Rooms