BridalLive's end-to-end platform gives you a smarter way to listen, learn, and grow! Take complete control of your online presence today with Reputation Management. This feature is an add-on option that can be enabled now for $119/month.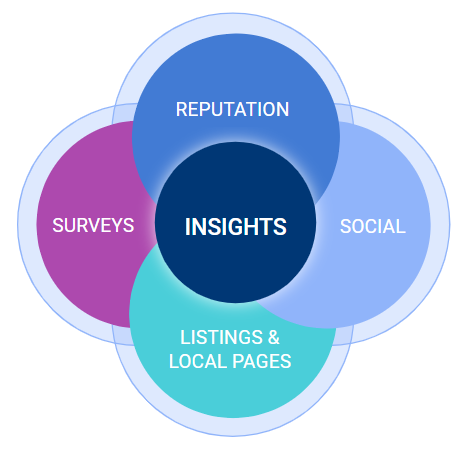 INSIGHTS
Unlock powerful insights to support your online brand vision. Get a quick snapshot of
company-wide customer sentiment, or dive deeper into specific location-based metrics.
REPUTATION
Outrank your local competitors, increase positive reviews on Google and other search platforms, and improve online visibility.
SOCIAL
Monitor, optimize, and update social accounts at scale. Access data and reporting functions showing how social impacts your SEO and brand visibility.
SURVEYS
Close the brand intelligence loop with survey questions revealing trends, patterns, and, opportunities.
LISTINGS/LOCAL PAGES
Protect local profiles from inaccurate data and duplicate listings, then optimize listings so your brand speaks louder than the competition.
Reputation Management Table of Contents:
LISTINGS &
LOCAL PAGES
LISTINGS &
LOCAL PAGES