At BridalLive, we receive a lot of new business via word-of-mouth and we want to give back to our most loyal customers. With the BridalLive Referral Program, we now have a way to reward you for referring your friends to our service. This article will explain how the Referral Program works and show you how to earn free months.

Program Overview
The Referral Program is simple. For every store that you refer to BridalLive a credit will be applied to your account. When your friend signs up and activates their plan, they will receive a credit on their account immediately. There is no limit to the number of credits that you can earn. Credits can be combined to earn free months of BridalLive.

Program Policies
Your friend must sign up using your personalized referral link found on the Referral Page inside of BridalLive.
Referral credits are applied to your account when your friend activates their account. Activation is when their first payment is successfully processed.
If your friend is referred by another BridalLive customer in addition to you, referral credit will be applied to the BridalLive customer whose link was clicked and used to sign up.
Credit Balances will be carried forward to future months if your credit balance is larger than your next billing amount.
Credit balances will be forfeited when accounts are canceled
We reserve the right to deny referral credits if we detect fraudulent activity - please be honest :)
BridalLive may make changes to the Referral Program at anytime
The Referral Program is available only to stores that use the online version of BridalLive

Referring Your Friends
There are 4 ways to refer your friends using the Referral Page.

Referring via Email
The primary way to refer your friends will be via Email. The Referral Page has a form (shown below) that contains a pre-filled message complete with your personalized referral link. Feel free to modify the message, but don't change the referral link. This is how BridalLive will make sure you receive credit when a friend signs up.

Enter your friends' email addresses, separated by a comma, and click "Send Email" to refer your friends.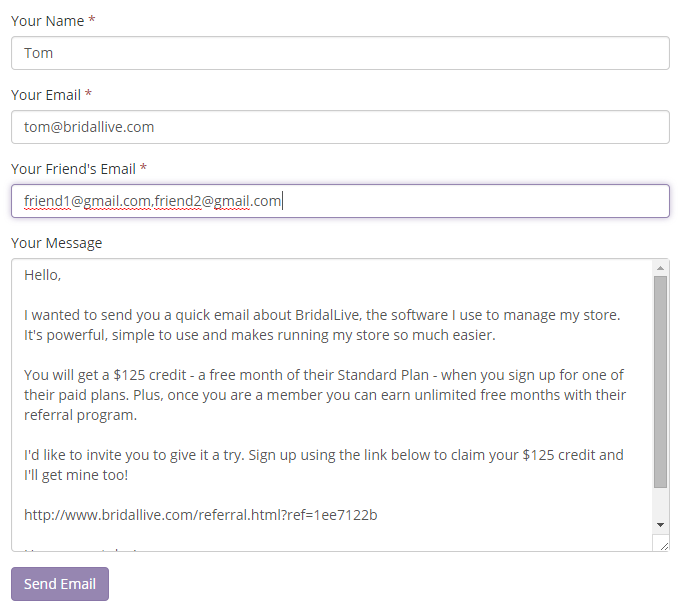 Referring via Social Media
The Referral Page also has Facebook and Twitter buttons for you to use when referring to friends via social media.

Clicking the Facebook Button will take you to Facebook and allow you to share your referral link via Private Message with all your friends or the groups that you participate in. It's best to enter a Message so that your friends know this is not some kind of SPAM. Click the Send button to share your message. When your friend clicks the message they will be taken to the BridalLive referral page to learn more about our services.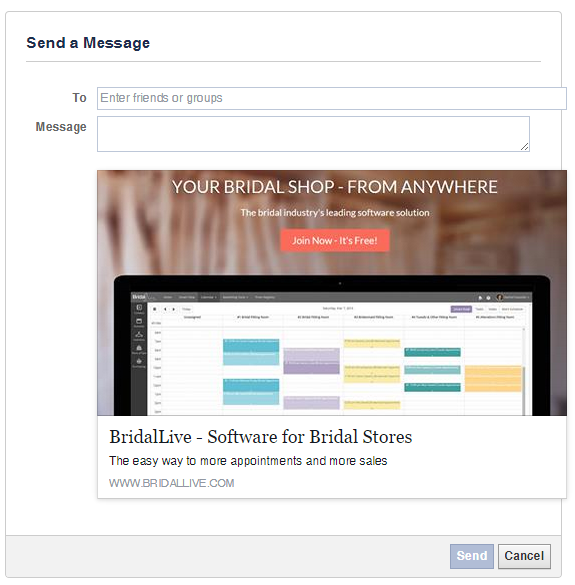 Clicking the Twitter icon will take you to Twitter and pre-populate a status update with your referral link. Click the Tweet button to share your status.


Sharing in other ways
Email, Facebook and Twitter are not the only ways to share your referral link and earn credit. You can also copy/paste your referral link on any website that other stores visit. To do so, simply copy the referral link by clicking on the box titled "Your Personalized Referral Link".


Tracking Your Referrals
BridalLive helps you track your referrals and see how many credits you've earned. In the Your Referrals section of the Referral Page, each person you've referred is listed along with the Referred On Date and the Referral Status.

The Referral Statuses are:
Pending Sign Up - These are your friends who have been sent the referral email and have not signed up yet. Referrals will stay in this status until they sign up using your Referral Link.
Signed Up (Pending Activation) - This status lets you know that your friend signed up for BridalLive, but has not yet activated their plan (i.e. made their first payment).
Activated - Cha-Ching! This status lets you know that your friend has become a paying BridalLive customer!
Accepted another invitation - This status will indicate when someone you referred signed up using an invitation from a different person.

Thank you for being a customer and we hope that our Referral Program will be a way that you can be rewarded for being awesome!