You can use the BridalLive Payment Plan feature to take automatic payments in BridalLive based on weekly, every other week, or monthly.
You will need to have the following steps setup in your account before you will be able to set up any Payment Plans inside of BridalLive.
BridalLive Subscription
Payment Plans can be set up in your Standard Plus or Elite subscription with BridalLive Pay. You can check your current BridalLive subscription by going logging into BridalLive and going to Settings > Account Settings. You will need to be on the Standard Plus or Elite Plan to access Payment Plans. Check out our BridalLive pricing. If you are not on the Standard Plus or Elite Plan, you can click Change Plan and select the plan that best suits your needs. You will be charged a pro-rated amount based on your current plan, current billing date, and new plan selected.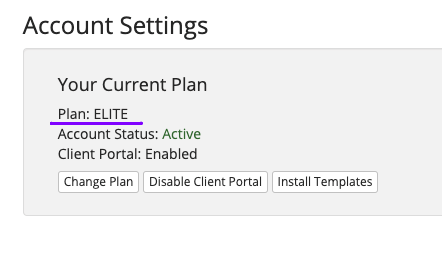 *You will need to see Plan: ELITE or Plan: STANDARD PLUS.
BridalLive Pay and Integrated Credit Card Processor
All credit card settings can be located in Settings > Integrations > Merchant Account (Credit Card Processing)
U.S. shops can use BridalLive Pay for all credit card processing needs with a meet or beat rate. If you are currently not on BridalLive Pay, send us your statements and let us save you time AND money! If you have questions, you can contact us at sales@bridallive.com.
Non-U.S. shops can use Stripe to take online payments.
User Roles
You will want to review your User Roles to make sure you have access to all needed areas of the Payment Plan settings as well as any employee User Roles who may also need to be able to create Payment Plans for customers. You can access the User Roles of BridalLive by going to Settings > Users & Security > User Roles - click Edit to the right of the role you would like to update.
User Roles > Settings
To be able to view the settings of the payment plan, you will want to make sure you have the permission enabled. Under the edit of the User Role, go to Settings, check Payment Plan Settings - Ability to view Payment Plan Settings.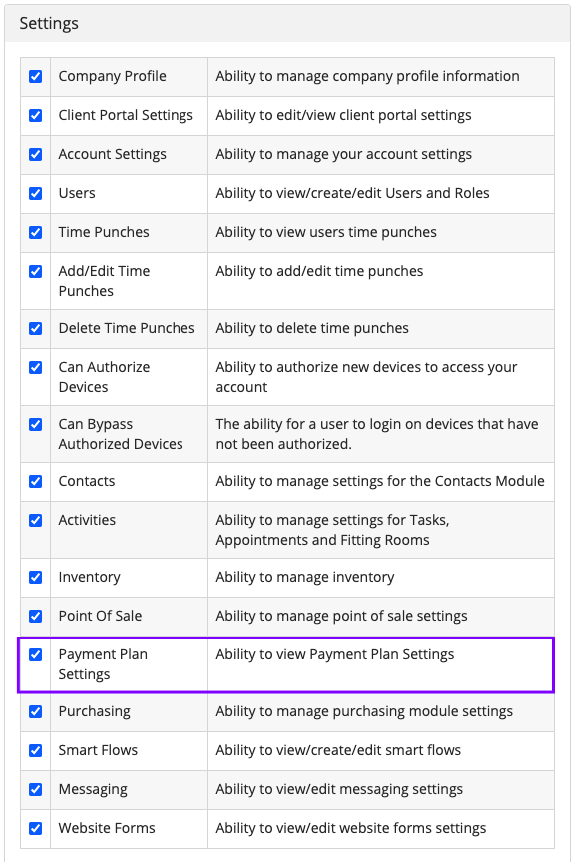 User Roles > Payment Plans
You can find all of the permissions regarding the use of payment plans under the Edit of User Roles, go to Payment Plans.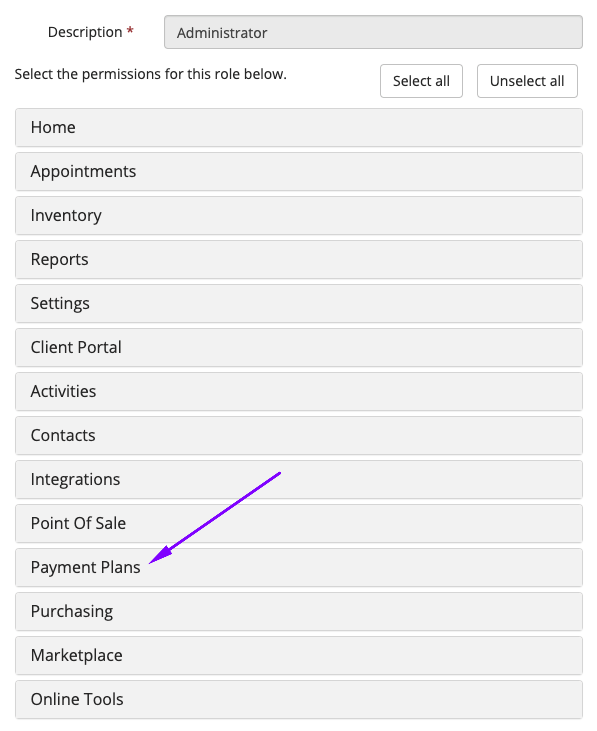 You will want to review each permission and determine which permissions each User Role should have. You will need to add permissions for each User Role that needs permissions.
Now that you have your Payment Plan settings in place, click the refresh button on your browser to pull in all your newly added settings. To refresh your browser, you should see a circular arrow icon near your URL bar. The example below is from Google Chrome.