One great feature of the Client Portal is that it allows you to send a 'Request for Signature' from Layaways and Special Orders in BridalLive. The requests can be sent via email or text message. When your client clicks the link in the message, they will be taken directly to the Sales Agreement screen within the Client Portal.

Note: If you'd like to request a payment AND a sales agreement signature, you'll want to follow the steps outlined in the Request a Payment help article.

The steps to request a signature on a sales agreement, follow the steps shown below.
Sending the Signature Request
Before your clients can sign the Sales Agreement via the Client Portal, you must send the signature request. Follow the instructions listed below the screenshot to send a payment request.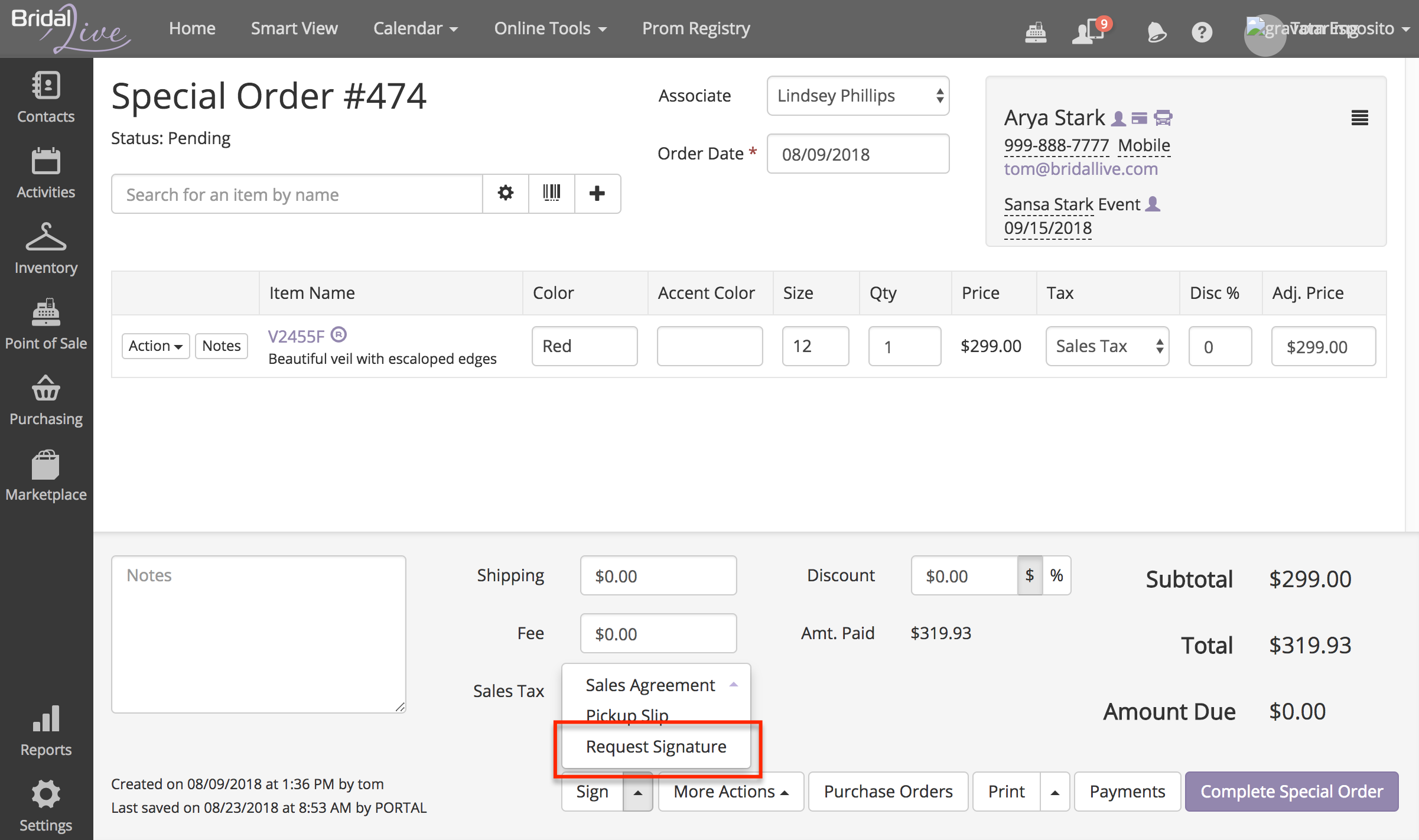 Request Signature via any Transaction

Request Signature Pop Up
To request a signature:
Navigate to the transaction for which you would like to request a signature
Click the "up arrow" next to the Sign Button displayed in the screenshot above. If you do not see the Sign Button, the digital signature is not enabled for your account. You can turn this on by going to Settings Point Of Sale Preferences Digital Signature.
Click the Request Signature Button. If you do not see this button, your user account has not been granted the "Request Signatures" Permission. You will need to grant permission and refresh your screen.
On the pop-up that is displayed, select the Sales Agreement that you would like to have signed. By default, the default sales agreement is selected. However, you can choose a different Sales Agreement for the customer to sign.
Select the Delivery Method for the request. If you have Twilio linked up to your BridalLive account, you will have the option of selecting "SMS"
For each delivery method selected, select which template you'd like to send. BridalLive only displays templates that have the correct Client Portal merge keys in them. This keeps you from making mistakes by selecting the wrong template.
Click Send
Your Clients' View
Your customer will now receive a message asking them to Sign the Sales Agreement. When clicking the button/link to in the message, they will be automatically logged in to their Client Portal (unless you've enabled PIN access). They will be presented with a screen shown below...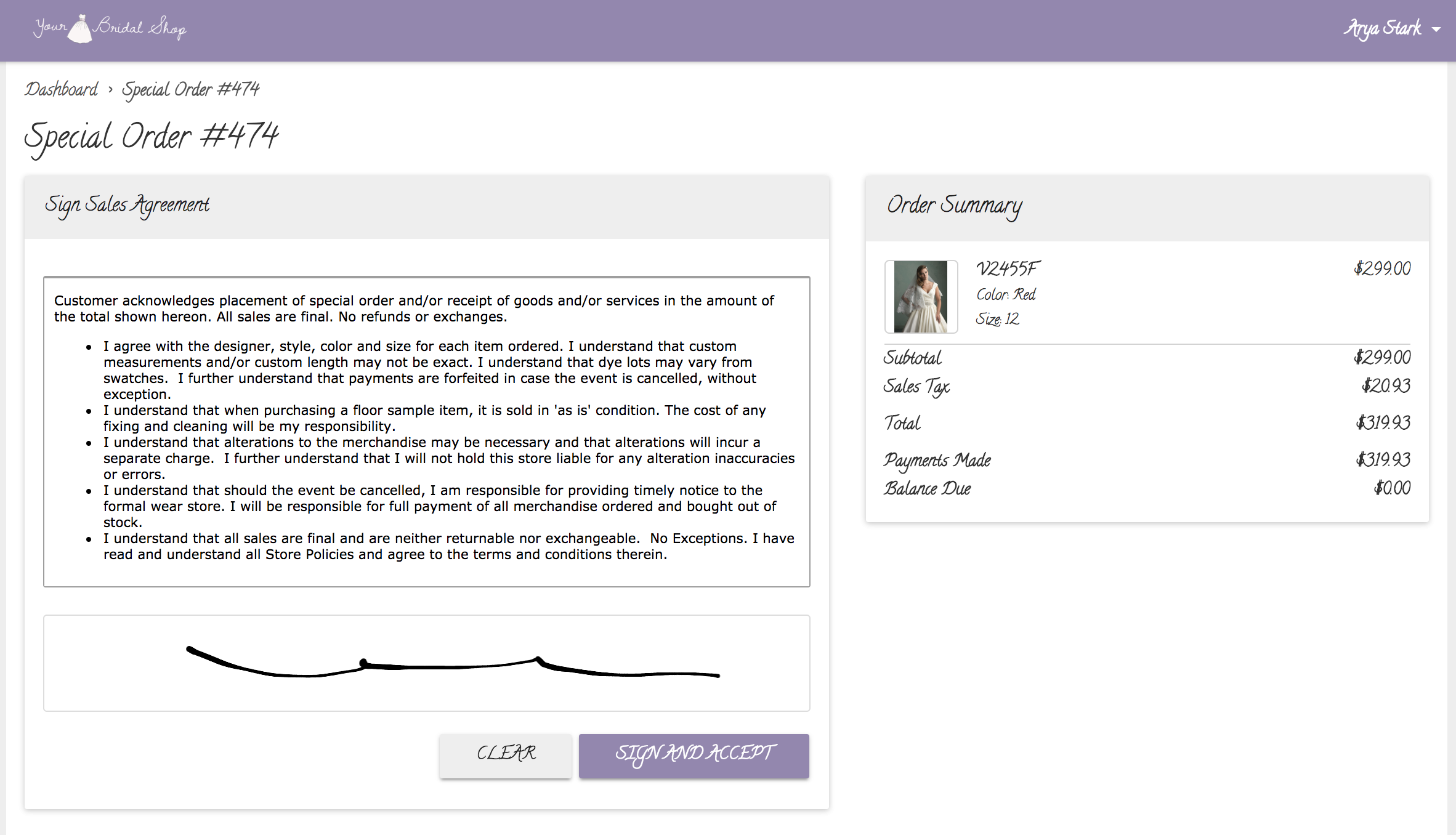 Client Portal Sign Sales Agreement Screen
Notifications received
When your clients sign a sales agreement, you will receive a notification inside of BridalLive. The notification is displayed at the top of BridalLive and is shown below.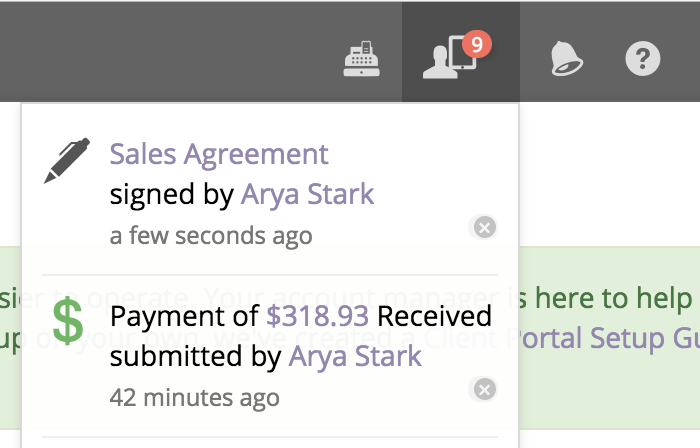 Sales Agreement notification

That's all it takes to request a sales agreement signature from your customers!